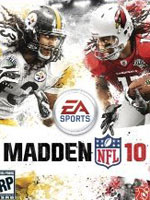 The fans of 30 teams in the NFL have just breathed a sigh of relief. EA Sports has revealed the cover athletes for Madden 10, and as you can see, we're going to get two horrific injuries/derailed careers this year instead of just one! Troy Polamalu of the Pittsburgh Steelers and Larry Fitzgerald of the Arizona Cardinals have the dubious honors this year of being on the cover of the top-selling football game.
The Madden Curse now has epic status. People absolutely cannot escape it. Brett Favre last year went from beloved athlete to choker to now desperately trying to find work and flushing his legacy down the toilet. Michael Vick in '04 went from cover athlete to down for the count in one day as he broke his leg during a pre-season game the day after he was announced on the cover and we all know where he is now. And of course 2007, when Shaun Alexander went from being a Top 3 running back in the NFL to out of the NFL in one season.
For Steelers and Cardinals fans' sake, I hope Polamalu and Fitzgerald have their insurance policies paid up.