In this day and age we often hear about athletes getting their own TV and radio shows. Usually, they're limited to the sport they play or perhaps on sports in general. I'd also hazard a guess that they're usually a little older and more experienced.
So it was interesting to read this article today in the Philadelphia Daily News (from which I borrowed the title of this post) about 21-year-old Philadelphia 76ers guard Louis Williams, who debuts a weekly four-hour show on local station 100.3FM "The Beat" on February 10.
Williams was the first Sixer drafted right out of high school since Darryl Dawkins in 1975, and rarely got off the bench at first. Now in his third season, he's providing a spark off the bench, averaging 22 minutes per game, with 10.8 points and 3.3 assists.
The article mentions that Williams' stepfather is a radio voiceover specialist, so he knows his way around the studio, and the station is giving him full creative control over his show. Besides playing music, he hopes to interview other NBA players.
His paycheck from the station will go towards one of the team's "Drive for Kids" programs that benefit Philadelphia-area children. "Louis' Caps for Kids" donates caps to local pediatric oncology units. That's a nice cause.
And just check out the photo that accompanied the article. My first thought was "adorable!" :smile: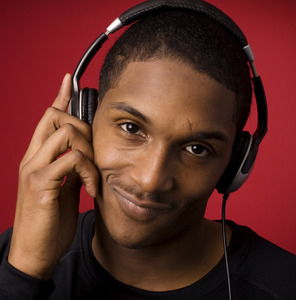 -- Joe Guckin